Flesh Weathering Oil Paint Set (6 Colors) 20ml Tubes - Abteilung 502 - ABT301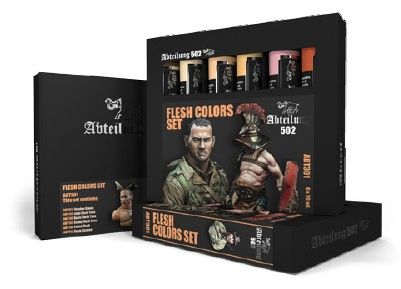 Flesh Weathering Oil Paint Set (6 Colors) 20ml Tubes - Abteilung 502 - ABT301
Flesh Weathering Oil Paint Set (6 Colors) 20ml Tubes - Abteilung 502 - ABT301


Specially studied and formulated for figure modellers who want to create both a high quality and durable artistic finish. This set of six oil colors, like all others in the line, is comprised of durable and stable pigments. Possessing a high density, depth and intensity of color, this set is ideal for painting flesh and musculature detail in scale figures. The excellent covering power, ease of application and ability to blur the colors allows for infinite variations of flesh tone. This set of six oil colors will allow you to create a finish just like best masters.
Set contains:
ABT015 Shadow Brown,
ABT135 Light Flesh Tone,
ABT140 Basic Flesh Tone,
ABT145 Sunny Flesh Tone,
ABT190 Faded Flesh,
ABT215 Flesh Shadow.